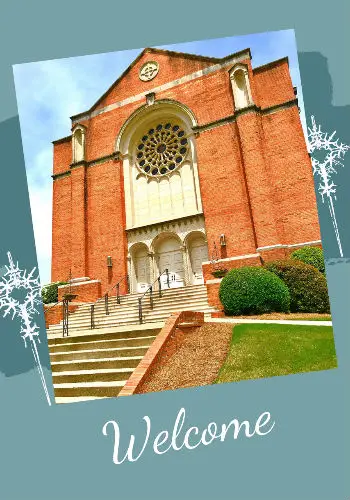 We are so happy you chose to find
out more about SABC.
Getting to the Church for Worship
Second Avenue Baptist Church is located at 823 East 2nd Avenue, in East Rome across from the YMCA. Contact us at 706-232-3663 or by email at web@sabcrome.com


How Do I Dress?
Dress comfortably. While some attendees do wear their "Sunday best," most folks wear casual and comfortable clothes on Sunday morning. Don't worry about what you wear – just come expecting a great experience.


What Do I Bring?
If you have a Bible, bring it with you to church. Our Pastor uses a teaching outline for his Sunday messages, and a Bible will help you to follow along in worship and Sunday Bible Study. We also have Bibles located under each pew in the Sanctuary for you to use as well.


What Type of Worship Should I Expect?
We don't have one set ''style" of worship as each week our services are different and the elements change continually. We use the piano, organ, hymnals, and monitors each week. We utilize soloists, quartets, choirs, hand bells, and puppets, during our services. We praise God through music that is as varied as our congregation. We have one service for our all of our congregation. We celebrate our differences, but come together as one as we enter God's presence through worship. Come and experience our approach to inter-generational worship where genuine worship is always transformational.


When Do I Need to Arrive?
Our Bible Studies begin at 9:45 am. There are classes for all age groups and interests. Greeters will meet you at the door and direct you to the class areas that reflect your interests. Our Worship Service begins at 11:00 am. Come a few minutes early to allow for parking and finding your way around the campus. You may wish to allow for an additional 10 minutes if you need to place preschoolers or elementary age children in classes as we will need to obtain child information.


Where Do I Park?
We reserve plenty of parking for first time guests nearest the building in the upper and lower parking lots. Just look for the signs. In the event all guest spaces are full, there is parking available at the YMCA. An elevator is available off of the lower parking lot at the side entrance.


Where is the Handicap Access?
An elevator is available on the lower parking lot (2nd Ave.) at the side entrance.


Where Do My Children Go?
SABC has excellent Preschool and Children's Ministries, as well as a dynamic Youth Ministry. Our Greeters will assist you in getting your children to their class or department. We offer preschool care for bed babies through preschool during worship services.


What About Security?
We take child security seriously. Each child must be registered before entering a Bible study class. You and your preschooler will be assigned a security card. The security card must be presented when you are picking up your child. Siblings 16 and under are not allowed to pick-up on the preschool hall.

Additional security measures and personnel are on campus to ensure the safety of every attendee.