by Rev. Elizabeth Maye, Minister to Children and Youth | April 23, 2020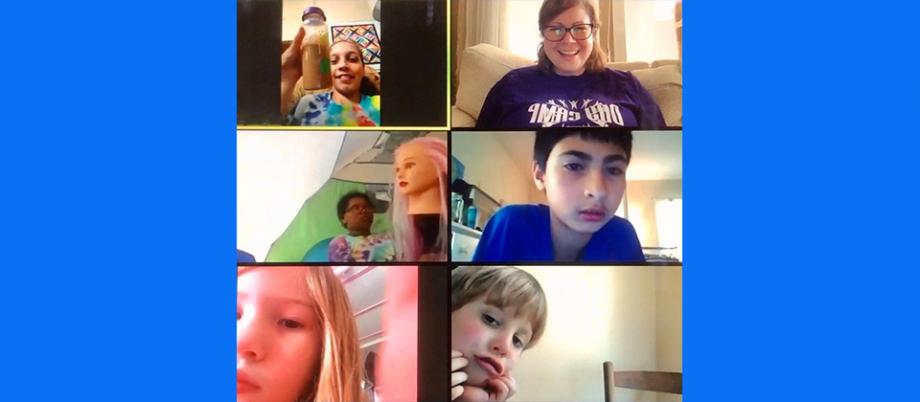 ---

Our preschoolers and children have been having a blast learning and laughing together virtually. Though it is nothing like actually being together in the same space, our SABC children have shown up for each other on their screens with an eagerness to be together and a deep love for each other. We have kept our same Wednesday night schedule over the past several weeks for a time of formation and fellowship. They have been busy practicing breath prayers, creating cards to mail out to the Sunday School and Wednesday night teachers, dreaming of ways to love each other during our days apart, celebrating the beauty of creation, and laughing the whole way through. We've also met over Zoom for a few indoor and outdoor scavenger hunts, we've attempted virtual dance parties, and every call always last longer than the planned time…because we just like being together.
We have incredible and dedicated teachers in our Preschool and Children's ministries too! Each department has developed their own creative way to remain connected to their class while providing access to a weekly Sunday School lesson. We have a a tribe of Youtube stars who have mastered the art of filming a lesson for their class each week. Our toddlers have repacked lessons delivered to their house that they are able to do at home with their family's. Our preschoolers and our children can access their lesson for the week through a Youtube playlist link that is emailed. They also receive a matching leaflet in the mail and our preschoolers get a related craft each week! Their village is working hard to remain connected and to continue to provide formation opportunities during these days at home!
These virtual times together are always bright spots in my week, though signing off is always bittersweet. Even though we are usually only going a couple of days between calls, digital faces remind us of the space between. Zoom and other online video platforms have provided us a bridge during these days…a bridge that leads us to opportunities to remain connected. A a connection that reminds us of how wonderful it will be to be in the same space again. I'm incredibly proud of our children for continuing to show up. It is not easy to continue to put the effort into showing up even when you are apart. Our isolation can lead to insolation, but they continue to lead the way, teaching me weekly the importance of showing up and staying connected.
Blessings,
Elizabeth